TESTICULAR SALUTE to The Comics, Comix, Caricature Art of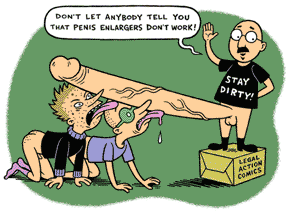 DIRTY DANNY HELLMAN
One of the best caricaturists in the world, Danny Hellman's simple yet precise art illustrates stories, magazine covers, cds and lots more
for some of the highest profile "cool" media.
Dirty D's been under fire the last few years because of an inane lawsuit flung at him, like shit on a wing. info below.
Here's some of Danny's hippest art, according to el Jefe. Music, Politix, Film etc...

click for animated Jimi gif

Iggy Pop - go here for Iggy Go Round

Reno-bot - go here 4 robo-mation

Terrorists, terrorism, go here 4 animism

Spice Gals vs Nazis

mirror fun here
LEGAL ACTION COMICS
Legal Action Comics is a 256-page comic collection boasting some of the biggest cartoonists around, including Robert Crumb, Tony Millionaire, Julie Doucet, Mike Diana and Art Spiegelman.
The impetus for this collection stemmed from a very public argument between political cartoonist/columnist, Ted Rall, and cartoonist/illustrator, Danny Hellman. Rall wrote a rather scathing cover story in the Village Voice (August 3, 1999) in which he made some unflattering remarks about Spiegelman, the Pulitzer Prize winning author and illustrator of MAUS. Hellman wrote a letter to the Village Voice in response to the article, but, being quite the prankster, he also concocted a phony discussion group called Rallsballs@onelist.com, wherein, parodying Rall's self-aggrandizing style, he encouraged young cartoonists to "take a meat cleaver to all of the industries' sacred cows," and sent e-mails to the site impersonating various publishing magnates such as Si Newhouse of Condé Nast: "Take me off of this list or I will have you killed!" He sent it to 30 of his pals; sure that a hearty laugh would be had by all. To make a long story less long, Rall found the joke wildly unfunny and, thinking his career at risk, served Hellman with a $1.5 million lawsuit. The original five charges - libel, libel per se, injurious falsehood, violation of statutory right of privacy, intentional infliction of emotional distress - have since been whittled down to one (libel per se), but the trial is still pending and the lawyer's fees have crossed the 15-grand barrier for both parties. All proceeds from the comic collection will go towards the Dirty Danny Legal Defense Fund.
go to dannyhellman.com
back to TEST PRESS